Festive Doggie Bandanas
Christmas bandanas for dogs let your adorable doggie join in the festive fun in a fashionable way. Xmas designs of reindeer, Santa and Christmas tree doggie bandanas in festive red and green colors add to the Christmas cheer and happy laughter.
A family photo with handsome doggie in Christmas bandana will surely bring back happy memories.
Bandanas for dogs are simple to wear. It is just a dog neckerchief. Wrap round the neck and fasten with adjustable velcro strap or thread dog collar's through built-in loop.
Can be easily taken off and there is no danger of constriction of neck muscles and choking when doggie gets rough and tough.
Whether bandanas for puppies or bigger dogs, these affordable and cheap bandanas help doggy join in the festive family  celebrations and fun.
Let's check out some dog bandanas for Christmas celebration
Kyjen Christmas Dog Bandana Plush Red and White
How about a Santa bandana for your dog this Christmas? Soft plush velvet fabric in festive color of red with white faux fur trim just like Santa's hat. It fastens easily with velcro strap.
This bandana has a jingle bell and when doggie runs around, jingling bell ushers in the merry Christmas cheer.
You can buy Santa bandana in sizes of small, medium or large, thus catering to a large number of dogs. However, might not fit very large dogs.
Check out the neck sizes below.
Small (fits necks 8″-12″)
Medium (fits necks 12″-18″)
Large (fits necks 18″-25″)
This festive red bandana for dog will certainly brightens up your holiday photo.
Click here for doggie Santa bandana at Amazon
Red Nosed Reindeer Christmas Holiday Dog Bandana Kerchief
This doggie bandana with stitched edges and polka dots background, comes with designer handmade felt applique reindeer pattern on 100% cotton fabric material.

Neck sizes are as follow: Medium Size fits 8″-15″ neck line, dimensions are 21 x 6 inches (L x W)
Large Size fits 16″-24″ neck line, dimensions are 25 x 9 inches (L x W)
Let your dog be a Santa helper with this red nose reindeer cotton bandana which is machine washable.
Click here for holiday dog bandana reindeer motif
Or you can get a few different holiday designs with this holiday dog bandana neckerchief.
There is the red bandana with white dots and a green Christmas tree design.
Or how about the white bandana with red dots and a red Christmas stocking design?
Thus, you'll have a few Christmas doggy bandanas to rotate around.
Christmas Red Santa Bandana Collar for Dogs, 14-Inch, Black Velvet
A bandana sewn onto a traditional buckle dog collar is a great way to dress up your dog for Christmas.
Bright red Santa cotton bandana with a vegan (artificial) leather collar will help your furry friend looks cool and handsome or gorgeous.
Made in USA, this red bandana collar for dogs is a nice addition to your doggie Christmas outfits.
Click here for red holiday bandana collar for dog at Amazon
Christmas Ornaments Dog Bandana
Another great holiday Christmas bandanas for large dogs, this doggie bandana with the festive ornaments design are made from 100% cotton materials.
Made in USA, this holiday bandana features Christmas ornaments on one side and candy canes on the other side.
Large size dog bandana for neck sizes 14″ to 22″.
There is the XL size for larger Labs, Akitas, German Shepherds, smaller Newfoundland, Bernese Mountain Dog, etc. with neck sizes of 22″ to 28″.
Click here for Christmas bandanas for larger dogs (22″ – 28″ neck)
Personalized Christmas Bandanas for Dogs
Getting your furry friend his/her very own custom bandana is a great idea.
You can have it specially for your dog's breed or have special messages too.
Check out these cute and beautiful personalized Christmas dog bandanas, your doggie will surely love them.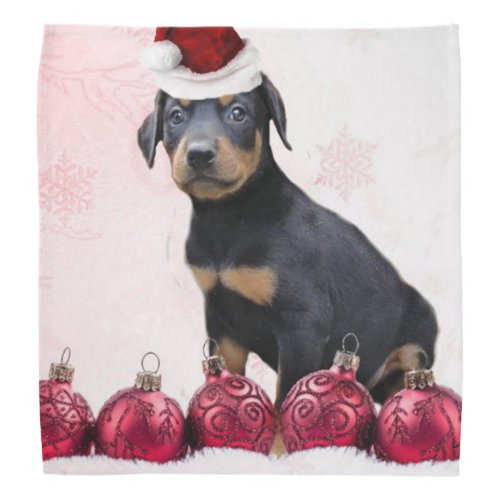 Christmas Doberman Pinscher dog Bandana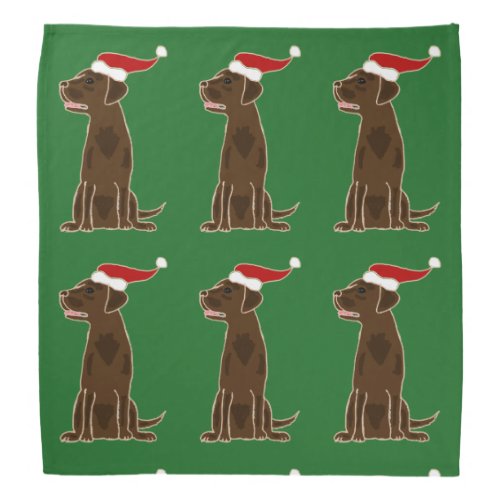 Funny Chocolate Labrador Retriever Christmas Art Bandanna

Black Spotted Dalmatian Christmas Dog Bandanas

Christmas Carolers And Singing Dog Bandanas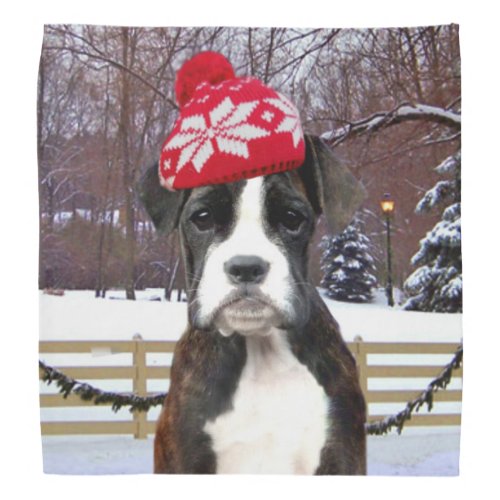 Christmas Boxer puppy dog Bandanas

Cute Penguin Santa and Reindeer Dog Bandana

Cute Christmas Reindeer Dog with Antlers Bandana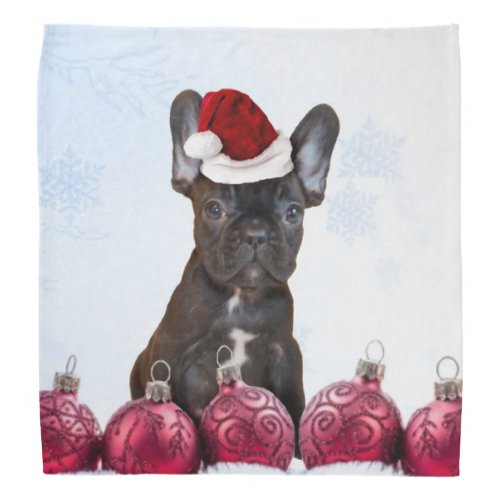 Christmas French Bulloog Bandannas

Cute Christmas dog with Santa Hat Bandanas

Celebrating Christmas with a blue staffie dog Kerchiefs

Golden Retriever Christmas Dog Bandanas

Dress up your loving dog for the holidays. Christmas bandanas for dogs make your doggy look festive in a simple and affordable way.
Click here for more choices of best selling holiday dog bandanas at Amazon