A dimly lit front yard and porch is a fun way to scare your guests even before stepping foot into your spooky haunted house.
Skeletons, ghosts, ghouls, giant spiders and eerie glowing lights make the perfect match for a haunted Halloween themed decoration.
Hanging upside mummies add a spooky ambiance to a dimly lit porch.
Black bats and crows add to the eerie feel.
Spooky silhouettes can be a scary fun part of the haunted Halloween front porch decorations.
You can make it scary, ghoulish or even funny with these 5 must-have haunted Halloween porch decorations ideas.
5 Must Have Spooky Props For Front Porch Halloween Decor
1) Skeletons Porch Halloween Decorations
Skeletons of all shapes and sizes taking over your front porch for Halloween – a scary thought indeed!
A life-size grinning skeleton in tattered pajamas in a rocking chair, hanging skeleton, animated talking skeletons that light up as your unsuspecting guests approach or maybe some bloody skeleton hands lying around your front door  – there are lots of spooky ideas.
Then there's the skeleton pet dog or cat in attack mode in a dark corner next to a bag of skeleton bones carelessly thrown on the floor. The tombstone completes the haunted atmosphere.
Disclosure: I get commissions for purchases made through links in this post but at no extra cost to you. The opinions are my own

Glow In The Dark Hanging Halloween Skeleton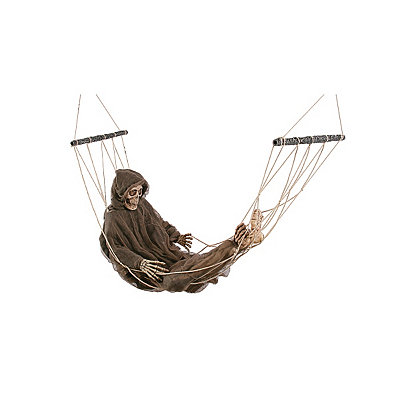 5 ft Lazy Bones with Hammock – Decorations
Not even this dead skeleton wants to be moved from this comfy hammock. The 60" Lazy Bo… [More]
Price: $59.99
2) Scary Animated Halloween Hanging Pirate Witch Prisoner Reaper Ghost
Hanging an animated spooky ghost, pirate, witch or the reaper can truly give your guests their first fright right at your front door.
Lightweight and portable, these animated creepy life-sized hanging Halloween props normally come with poseable arms, tattered bloodied clothing and light-up eyes.
Some come with shrill screams, threats and maniacal laughs.

Shaking Lightup And Sound Prisoner Skeleton Ghost

3) Giant Spider Web With Giant Spiders For A Spooky Effect
Giant spider web can be spooky yet fun. The giant spider web with the creepy spiders is easy to hang.
You can easily arrange the position of the spiders for the most dramatic effect.
If you get those that operate with batteries, the spider will flash its eyes and vibrate, adding to its spooky effect.
Kids will love your creepy giant spider web.
Drape some creepy tattered black gauze all over for a more spooky decor.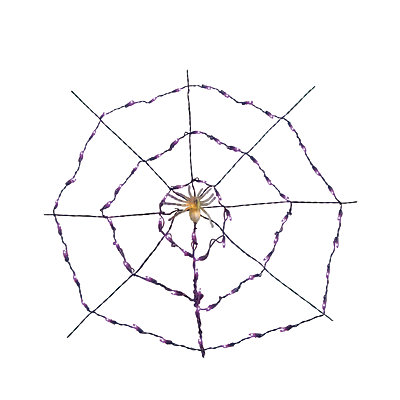 Purple Spider Web Light Set – Decorations
Make your haunted house a little more creepy with these purple spider web lights!… [More]
Price: $19.99
Related Post : Giant Spiders For Halloween
4) Halloween Pumpkin And Spider Lights
The Halloween Jack-o-Lantern pumpkin lights complementing the spider lights are perfect for accenting your haunted patio area.
The dim orange light gives out the perfect spooky haunted feel. The Jack-o-Lanterns grinning eerily in the dark night is a scary sight.
A sound and motion activated light-up pumpkin stack with LED lights as well as sinister laughs sounds like the perfect solution to add some creepiness to your Halloween porch.
The Jack-0-Lantern pumpkin lights save you the trouble of carving a fresh pumpkin for decoration.

Halloween Glowing Scarecrows Pumpkin Lights


Halloween Pumpkin Hanging Light Lamp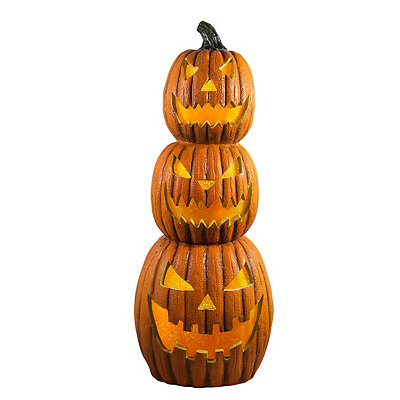 1.5 Ft Light Up Pumpkin Stack – Decorations
Want to add some creepy jack-o-lanterns to your Halloween display? This light up … [More]
Price: $129.99
Here's another Jack-o-lantern/Pumpkin Stacked Light Decoration that is just as great for Halloween.

Sparkling Pumpkin Porch Light Cover

5) Tattered Gauze Curtain For The Haunted Front Porch
Drape the porch in tattered black/gray gauze to get the haunted house look. This will certainly add to the ghostly ambiance.
Hang the creepy cloth over the doorway, over the lamp etc. Put in a few black Halloween 'crawling' spiders to complete the creepy look.
Decorating it with cobwebs give a deserted scary look.
You can easily make your own creepy cloth by soaking some pieces of cheese cloth in a tea solution or splattering them with red paint here and there. Shred them for a tattered ghostly look. Then hang them from the ceiling.

Black Lighted Garland with Orange Lights Halloween Decoration